We offer
Webdesign - Website and mobile Design (RWD)
E-commerce
Search Engine Optimisation
CMS
About us
We're a web design and web development company, providing fresh, creative digital services to businesses who want to grow on-line. Our specialisation is custom web development for desktop and mobile. With use of own develop CMS we can effectively prepare complex pages, with unique functionality and editor optimized back-end.
We prepare pages for our clients since 2002. During this time we prepared several portals, and several hundred pages and online shops for clients in Poland, and several other European countries.
Our Strengths
12 years of experience
600 customers / more than 1000 projects
Individual design
Design and page construction optimised for google
Last realisations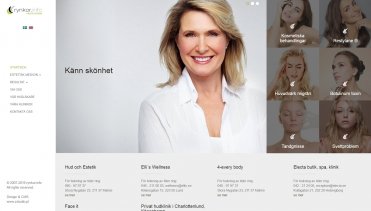 Different types of cosmetic treatments to rejuvenate your skin against wrinkles, for lip augmentation and facial sculpture.
iEnergia operates within worldwide activities in the sourcing and managing supply of metals, minerals and energy products such as Electricity, Gas and Fuels.
19
oct
www.names.edu.pl
Interdisciplinary and intersectoral school for PhD fellows
Was designed to employ the phenomenological knowledge concerning nanoscale processes to the creation of new materials applicable in industrial technology, medical diagnostics and environmental protection.